Phocas amazes Gibsons with speed and simplicity
Phocas' self-service solution has made it possible for non-technical users to review data and significantly decreased the time to produce reports at Gibsons.
Difficult report writer creates big challenges
According to independent research, Gibsons' products sell at nearly twice the rate of their key competitors, so identifying when, where and how to grow sales among its retail partners is critical to the company's success. Gibsons has used AMSolve ERP software from Aspin Management Systems for over 20 years for order processing and stock control. To get data from the system, data was exported to Excel using a 'difficult' IQ report writer.
"We had big challenges on the reporting side with the standard reports and the report-writer that we were using," says Geoff Lee, business development director at Gibsons. "Trying to find sales data that was spread out over different financial years or using the sales data to analyse customer performance of sales opportunities was not easy to do."
Phocas works side-by-side with ERP system
After consulting with Aspin, Lee learned that Gibsons could add enhanced data analytics capabilities without implementing an entirely new ERP system.
"We consulted Aspin and they recommended Phocas Business Intelligence," said Lee. "Rather than buying a whole big new system, we could add Phocas to the AMSolve package. With the two software systems working side-by-side, we get the best of both worlds. My first reaction when I saw it was 'Amazing!"

Implementing Phocas was completed by the end of August 2018. With a summertime year-end, one of the most significant tasks was to obtain calendar-year sales data which was spread across different financial years.
Lee added, "It was a complex job before we had Phocas, but now it is super-easy."
Using Phocas to transform business processes
Today, roughly half the company uses Phocas, including sales, accounts, operations and general management.
Phocas has helped transform business processes, made it possible for non-technical colleagues to review sales data and significantly decreased the time to produce reports.
"We used Phocas to transform our company budgeting methods, and improve our stock and sales forecasting system; two things that have really benefitted us," said Lee.

"The salesforce also used to regularly request reports and sales data, but now it is all self-service. They can get anything they need when visiting customers without having to make requests of IT. Phocas pulls all the data from AMSolve and is easy to use for our entire team. In time alone, it's been a big saving for us. It's so easy to for our users, regardless of skill level, to get the data they need to help them do their jobs and support our customers," said Lee.

The Gibsons team has especially appreciated the visual dashboard overviews, which makes it easy to identify missed sales opportunities, while the ability to import external data helps create a more complete picture of business operations.
"It doesn't take long to recognize on the Phocas dashboards how many opportunities are being missed while pulling in external data such as retail sales which allows us to conduct more in-depth analysis of business-critical information," said Lee.
Gibsons highly recommends Phocas
Lee emphasized the relationship with Aspin and the ability to seamlessly integrate Phocas into its AMSolve software as key to Gibsons' success with data analytics. Lee highly recommends the software to others that are struggling to get access to their data and have bottlenecks in their reporting system.
"We are getting impossible data out of AMSolve because of Phocas," said Lee. "We couldn't do our budgeting or stock forecasting without Phocas, so would we recommend it to other companies? It's a resounding yes from us."
Gibsons
is a 100-year old UK-based manufacturer and distributor of more than 500 games, puzzles, cards and gifts. The company employs 20 people who support 1,500 brick and mortar retailers across the United Kingdom.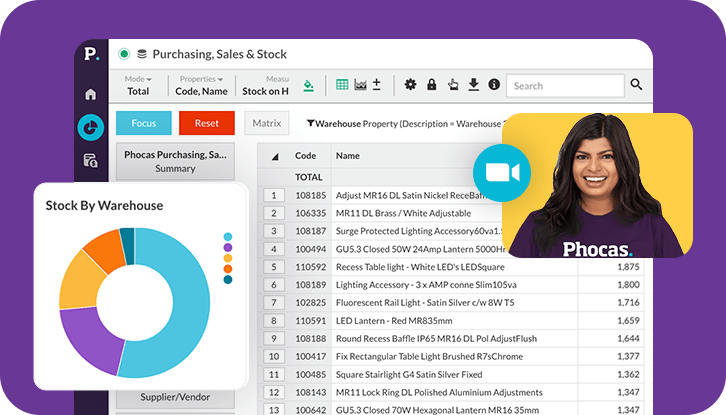 Get a demo
Find out how our platform gives you the visibility you need to get more done.
Get your demo today