Grocery distributor uses data to justify quality service strategy
Grocery wholesale distributors use networks for buying power and breadth of product range. For many members of the Countrywide Food Service Network, data analytics is the new secret weapon to stay competitive.
Wholesale bypass drives prices down in grocery distribution
Despite the major cities being miles away, KM is not immune from the pressures experienced by the sector, such as the fluctuating cost of meat and vegetables as well as customers demanding the best produce at city prices.
Mr Brittain explains: The wholesale grocery market has been affected by the power of the supermarkets and their price wars. The big chains have also ramped up the wholesale bypass, wanting to go directly to suppliers and create their own labels. So independents, like me have to be on their data game to compete.
It was through Countrywide that Phill first heard about Phocas, a data analytics solution that is favoured by companies who move and sell a broad range of products.
Phill knew some members in the group use Phocas and it had helped their business. He decided to purchase the software for KM to help resolve a few issues he was having around reporting and managing suppliers.
The software draws purchasing and sales information from different data sources and provides daily summaries of metrics that are deemed essential for customer needs.
In Phill's case, he looks at sales data by product and customer and as well profit margin and size of order.
Data analytics solution alleviates rebate management stress
As a member of Countrywide, he is entitled to be part of various rebate programs that are offered by suppliers for achieving volume targets, cartons sales and selling certain products.
"Phocas has been a godsend for managing the rebates. The supplier rebate programs are all different, so Phocas allows me to manage the information for each one very simply. In a click of a button, I can isolate products that are relevant to the rebates and then marry it up with targets we agreed to at an end of a designated period," explains Phill.
What used to take two to three days to trawl through invoices, itemize products and assign to suppliers by hand, now happens in one program, in about 20 minutes.
Suppliers run their rebates in different periods, some run a 5-4-4 fiscal calendar, and others prefer the 4-5-4, so Phocas allows Phill to assign start and end dates to each program which also simplifies the process.
"Phocas helps me to build accurate records that I can match with suppliers' figures, so it has helped me to keep them honest as well," says Phill.
Phocas helps justify business strategy by offering superior service
Kimberley Marketing's business is very seasonal, during the winter months grocery sales quadruple. As soon as the weather starts to get hot, the tourists stop arriving and orders stop.
"Phocas has helped me to look at my business for the whole year and feel more in control. During the peak periods I now can see the differences in product sales from year to year as well as service the all-year-round customers better," says Phill.
Some local customers go looking for lower prices in the cities but they often return to Kimberley Marketing because price alone is not sustainable. Kimberley Marketing understands the local area, offers excellent service and has reliable suppliers, and is backed by strong data.
Kimberley Marketing (KM) is a wholesale grocery distribution business and a cash and carry retail store. Phil Brittain runs the business from Kununurra, a town in far north Western Australia, with the closest cities being Darwin, 500 miles away and Perth, a further 2000 miles south.
The business is part of the Countrywide Food Service Network, KM supplies 6000 products to 200 customers across 125 mile radius, in the mixed grocery category including frozen, chilled, dry, fresh fruit, vegetables and small goods.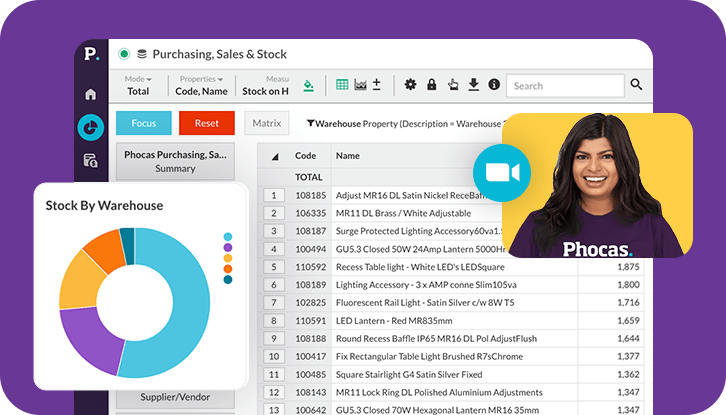 Get a demo
Find out how our platform gives you the visibility you need to get more done.
Get your demo today