PPI Automotive grows business using data
Automotive wholesale distributor improves inventory management, identifies sales opportunities, and improves reporting with Phocas.
Lacking Faith in the Data
For PPI, data has not always been an emphasis, in part because the company did not have the right technology in place or faith in the data. For many years, the company used PartsWatch as its primary Point of Sales (POS) system. Other than pulling some data into Excel spreadsheets, business intelligence was minimal.
CarQuest developed the software and many of its features were proprietary for the car parts chain. PartsWatch was later purchased by eBay, which focused on developing a better solution for selling parts online and not on distribution center software. While PPI did some eBay business and sold a decent amount online, it was not a profitable operation. The majority of the company business — nearly 98 percent — is from the installer base.
"We often asked how this POS software was helping us grow our business, add locations, and track customers and sales," said Rich Johnston, Jr., vice president of PPI. "With PartsWatch, we would run a report and get different results depending on what report we were running. We didn't have faith in the data and recognized that we needed a more accurate system that could deliver the consistency we needed."
Business Intelligence to Grow the Business
Three years ago PPI purchased MAM, an aftermarket ERP system built to help automotive parts companies improve efficiencies, control costs and improve profits. The SQL server-based system provided the POS and also a number of business management tools that improved access to data. MAM offered PPI thousands of reports, but the company still needed more. MAM's partnership with Phocas Software provided the true BI platform that PPI needed.
"When the opportunity to add Phocas came to us, we were uncertain how it could help us," added Johnston. "After a few demos, we were wondering what we ever did without it."
Phocas provides PPI with easy-to-use, near real-time intelligence that company management is using to help grow the business.
Johnston said, "What we found early on with Phocas is that it helps us do things that we didn't know were even possible. We can get to our data so much quicker and provide our team with more accurate information they need about customers, parts and sales faster than we have ever done before."
Making Data Usable
What has surprised Johnston is how much and in how many different ways PPI uses Phocas.
"I literally use Phocas every day, whether at my desk or on my phone. It's one of those things that makes me wonder how we ever did business without it. We rely on it every day to make decisions, and while our data has always been there in the past, Phocas actually makes it usable.
Among the many ways that PPI uses Phocas is creating promotions and tracking promotion sales. The company produces monthly promotional flyers based on what customers are buying or what products are not selling as well as they should. PPI uses Phocas to track customer sales and identify opportunities to help customers better understand available products and improve their own inventory.
"Phocas helps us to understand where we want to focus our efforts, and then create the promotions to push opportunities to customers," said Johnston. "We then track the promotions through Phocas, measure our success, and make decisions on how to continually improve."
One of Phocas' primary roles at PPI is inventory management, which is ensuring the company has all the right products and isn't missing out on sales because of a stocking issue. The company added a lost sales module and report, which allows Johnston to monitor min/max stocking levels, lost sales and customers that recorded lost sales. The information is exported to Excel and matched to manufacturers' popularity lists so that PPI can make decisions down to the part number.
"Phocas allows us to use actual customer data down to the transaction level to determine what products we should and should not be carrying," added Johnston. "We can see quickly if our lost sales are with a single customer that orders the same part over and over, or with an obscure part that we don't want or need to carry. On the flip side, we can drill down into specific product lines and identify what parts are selling and what complementary parts we should be emphasizing."
Building a Successful Game Plan
Phocas is helping PPI come up with a game plan, whether by product line or customer.
"With Phocas," Johnston added, "things can go from something really large such as how we as a company are doing with product categories to something as small as working on a customer's inventory. Regardless, we are looking at real sales, which allows us to match up numbers on stock levels and then come up with a real game plan."
Phocas has become an integral part of PPI's operations providing a starting point to ask questions and the end point for answers. Prior to Phocas, report requests would take four to five days to complete. The same report in Phocas now takes minutes.
"While our sales team doesn't quite understand the secret sauce, they do benefit from our ability to provide them near real-time data about sales and customers," said Johnston. "If they have questions about parts sales or customer purchasing habits, I can quickly answer them using Phocas. Phocas is saving us time and money in a variety of ways, from stopping us from bringing in parts that we didn't need, to reducing lost sales by making sure we have the right products in stock. The real value of Phocas is that we are finally able trust our data to make real business decisions."
In terms of ROI, Johnston added, "While a lot of ERP systems and business management software products promise you the world, 99 percent of the time they fall short. Phocas is the one thing that has over delivered on what they promised."
PPI Automotive serves mechanics across the Pittsburgh, Pa., region with quality automotive aftermarket parts. The family-owned business opened in 1974 and changed ownership in 2004. Currently, PPI has 30 employees operating from three locations, including its main warehouse in Pittsburgh and distribution centers in Carnegie and the North Hills. The company is considering adding a fourth location in the next year to ensure that it can meet its commitment to customer service, which includes a 30-minute delivery window.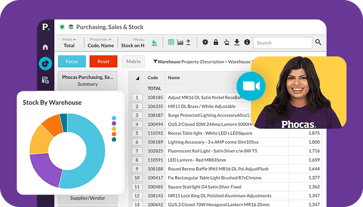 Get a demo
Find out how our platform gives you the visibility you need to get more done.
Get your demo today
Understand the past, operate better today, and plan well for the future
Whether you want to get your data organized for your team or you're looking to combine business intelligence capabilities with financial reporting, planning and analytics… We can guide you. Let's see if we can help.